The GW MFA Department of Emergency Medicine is a licensed non-transport Advanced Life Support (ALS) Emergency Medical Services (EMS) provider in the District of Columbia. We are able to provide comprehensive medical support for anything from National Special Security Event (NSSE) to a Basic Life Support (BLS) single resource to support a small event.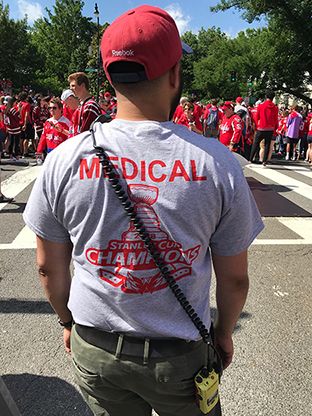 What we can provide
Medical Planning – from what resources are appropriate, to crisis plans, to permitting and working with the appropriate government agencies, we have subject matter experts in all facets of comprehensive medical planning and can help you through the process.
Medical Services – as an ALS EMS agency being part of a larger Emergency Medicine program we go well beyond a typical medical staffing agency in both the breadth of services offered and the size of operation we can support. Further, as the largest academic physician practice in the metro area, we are licensed and insured to do it.
Medical Direction – Our physicians and advanced providers are all associated with the GW Hospital level one trauma center. In addition, we have a disaster and operational medicine physician fellowship program led by Dr. James Phillips that adds expertise and support to our program. Regardless of what service is provided, all of our providers have 24/7 support from the GW Emergency Physicians.
Medical levels of services we can provide:
Emergency Medical Technician (EMT) – Basic life support
Registered Nurse (RN) – Advanced life support
Paramedic (NRP) – Advanced life support
Advanced Practice Provider (either Physician Assistant or Nurse Practitioner)
Physician (MD)
Ways we can provide service:
Medical logistics support
Walking teams
Bike teams
Gator teams
Transport ambulances (contracted through us)
Medical Incident Command
Incident Command liaisons
Tent or static teams - from basic to comprehensive main medical set ups
When The GW MFA Emergency Medicine Event and Operational Medicine program is brought in to do event, we do not take a piecemeal approach. We believe that good planning, an integrated team based approach, coupled with good execution leads to the best outcomes for our clients. For over fifteen years, our experience, expertise and great clinical providers has made us the benchmark for event and operational medical services in the District of Columbia.
* We are a preferred provider for the Walter E. Washington Convention Center.