Since the very first Public Access to Defibrillation clinical trial in 2002, The GW Lifesavers AED Program has been at the forefront of providing comprehensive AED services to public buildings, transportation centers, churches and communities across the nation.
The GW LifeSavers AED Program provides medical direction, program management, training as well as device and accessory sales. Our program is designed to help your organization meet today's standard of emergency preparedness and protect your most important assets— your employees and clients. We encourage you to learn more about our services as well as the benefits of implementing a comprehensive AED program.
AED Lifesavers Program Services
As a GW LifeSavers client, you will have direct access to a dedicated medical director and program manager to ensure a comprehensive AED program is in place at your organization. Our extensive services include:
AED Program Management – An initial on-site consultation meeting will take place regarding device selection and deployment. From there, you will have unlimited access to program staff for questions and concerns
Client Management System – To simplify the management of your program, we have implemented the GW Lifesaver Client Management System. This on-line service allows you to keep track of all you equipment, trained personnel, and program related documents making your program always organized and up to date.
AED Medical Direction – We ensure your building is compliant with State and Federal regulations by providing:
AED Prescription (FDA requirement)
Written AED Response Physician-approved protocols
Assistance with regulatory compliance/registration
Post-event data recovery, review, and report submission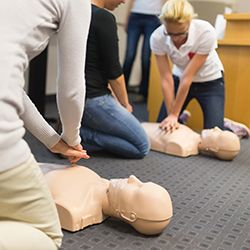 Training – Have direct access to the largest AHA Training Center in the DC metro Area. The GW Training Center offers CPR and AED courses for lay responders, office personnel, safety officers and first responders
Device and Accessory Sales – We work with all manufactures to provide competitive pricing and an array of options. We evaluate the needs of your organization to recommend the best options.
AED Benefits
Sudden cardiac arrest kills more than 450,000 Americans each year, making it the #1 heath care problem and leading cause of death in the United States. Even a seemingly healthy person can suffer cardiac arrest without warning. Sudden cardiac arrest is truly a public health crisis however, unlike other health problems of this magnitude, sudden cardiac arrest is treatable.
The cure for most cases of sudden cardiac arrest is immediate treatment with a defibrillator, a devise that shocks the heart out of a fatal rhythm, allowing a normal healthy rhythm to resume. According to the American Heart Association (AHA), each minute of delay in delivering a defibrillation shock to a cardiac arrest victim reduces the chances of survival by 10 percent, so in order to be effective, defibrillation treatment must be administered within the first few minutes of sudden cardiac arrest.