Breast Surgery
Innovative Breast Surgery & Reconstruction Techniques
The GW Comprehensive Breast Center is the first and only breast center in Metro Washington, DC, with an all-women team of breast surgeons. Combining state-of-the-art technology with superior medical and surgical care, our surgeons are pioneering advanced breast surgery and reconstruction techniques such as nipple-sparing mastectomies and radioactive seed localizations.
Our Center has been awarded a three-year full accreditation by the National Accreditation Program for Breast Centers (NAPBC) for providing quality evaluation and management of their patients with breast disease.
"We have an unwavering commitment to patients with breast cancer throughout their entire journey from diagnosis to survivorship," said Christine Teal, MD, breast surgeon. "This recognition underscores that dedication and acknowledges the quality of our comprehensive center."
Online Forms
Latest News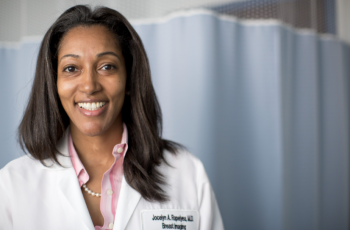 October 21, 2022
October is Breast Cancer Awareness Month, and though the incidence of breast cancer is high, early detection is the key to successful outcomes. According to the National Cancer Society, nearly 4 million women in the United States with a history of the disease are alive today, mainly because of…