Orthopaedic Surgery
Our board-certified, fellowship-trained surgeons specialize in diagnosing and treating injuries and diseases throughout the musculoskeletal system. The department includes subspecialists in the areas of joint replacement, spine, foot and ankle, hand, sports medicine, shoulder, and trauma surgery. We combine our years of experience with the latest innovative and minimally-invasive treatment methods to offer personalized care focused on getting every patient on the move again.
Online Patient Form:
Our Services
Hand and Wrist Services

Hand and wrist injuries can affect your ability to work and prevent you from enjoying hobbies such as cooking, playing sports or musical instruments, as well as the simple activities of life such as holding onto things, writing, typing, or even opening a jar. The orthopaedic hand specialists at the MFA are dedicated to delivering comprehensive and personalized care focused on maximizing our patients' hand and wrist function. We use the latest techniques to restore function, allowing our patients to use their hands with relief of pain and improved function. We have been at the forefront in the development of many of these techniques. Our expertise includes surgical and non-operative treatment for common and complex hand and wrist conditions. The majority of surgical procedures for hand and wrist problems are performed on an outpatient basis and often do not require general anesthesia.

Common procedures performed by our specialists include:

Repair of tendon, nerve and vessel injuries.
Tendon transfers
Reconstruction for ligament injuries and dislocations of the wrist and hand
Fracture fixation of the hand and wrist
Hand and wrist arthroplasty (joint replacement)
Arthritis surgery, including the thumb and wrist
Dupuytren's contracture surgeries
Revision of failed prior surgical procedures
DeQuervains and tendinitis surgery
Arthroscopic surgery of the wrist
Carpal tunnel release, cubital tunnel release
Tennis elbow surgery
Trigger finger
Ganglion excision

Foot and Ankle Surgery

The average person takes almost 10,000 steps a day. All that movement puts pressure on your feet and ankles. Together, the bones in your feet and ankle comprise about one-fourth of the bones in your entire body. The Foot and Ankle Service at The GW Medical Faculty Associates offers expertise in the diagnosis and treatment of all types of problems of the foot and ankle, with an emphasis on adult reconstruction and revision surgery, traumatic and post-traumatic problems; congenital and developmental disease and deformities.

Our surgeon, Dr. Marc Chodos, treats pain associated with joint injuries and conditions, including:

Arthroscopic and minimally invasive surgery
Foot and ankle sports medicine by a foot and ankle specialist
Bunions, metatarsal, hammertoes, and other forefoot abnormalities, deformities, or painful conditions
Midfoot and hindfoot deformities (congenital, developmental, or arthritic), including painful flat foot
Tendon and ligament problems (traumatic or degenerative)
Diabetic foot evaluation and care (including diabetic
Charcot foot reconstruction and limb salvage)
Ankle fractures, arthritis, instability, deformities
Reconstruction of traumatic, developmental, or congenital deformities

Spine Services

Patients with spinal pain often feel they face two distinct paths: one that requires surgery, and one that does not. The uncertainty of which path to choose can cause as much inertia as the pain itself causes immobility. People are worried they won't get better, or they are worried about where surgery could lead. Our surgeons believe in customized care to find the best options if more conservative treatment fails. These can range from minimally invasive procedures to complex revisions, as well as deformity and scoliosis surgery.

Patients often come to the Spine Section of the Department of Orthopedic Surgery at The GW Medical Faculty Associates after receiving several medical opinions. They can be frustrated looking for an answer to relieve their pain, and fear the possibility of surgery. That's why our physicians believe comprehensive care matters, and trust matters.

The Spine Service (adult and pediatric) offers expertise in the evaluation of conditions of the cervical, thoracic and lumbar spine, including:

Degenerative Conditions
Adult and Pediatric Deformities (pediatric scoliosis)
Metabolic and Neoplastic Problems
Fractures and Dislocations

Hip and Knee Surgery

A range of treatments are available from non-operative measures through joint preserving procedures to partial and total joint replacement. When indicated, minimally invasive surgery is emphasized.

Sports Medicine

Whether you're a professional athlete or a weekend warrior, at the Center for Sports Medicine you'll be given the wide range of care that has earned us our reputation for excellence. Young or old, professional or amateur, MFA Sports Medicine has the expertise, advanced technology, and services to make a dynamic difference in your orthopaedic care. Many sports medicine conditions are treated with arthroscopic surgery, a minimally invasive surgical method that uses a camera to look inside a joint and repair damaged structures. We treat all types of sports related injuries of the knee, hip, shoulder, and foot/ankle.

Our team treats pain associated with joint injuries and conditions, including:

Anterior cruciate ligament tear
Meniscus tear
Hip Labral tears and Femoral-Acetabular Impingement
Osgood-Schlatter disease
Achilles tendon injuries
Patellar tendonitis
Posterior cruciate ligament tear
Hip pointer Quadricep, hamstring, and groin strain
Trochanteric bursitis

Shoulder Surgery

When your shoulder hurts, even simple things like getting dressed in the morning or going to sleep at night can be painful. Our shoulder specialists are experts in the treatment of all types of shoulder problems. They use the latest technology and diagnostic tools to help find the cause of the pain and guide you to the best solution. Because the shoulder is very complex, and people use it in different ways, treatment is highly-individualized and geared to getting patients back to what they want to do.

Our innovation and research has helped the department earn a reputation as one of the nation's premiere institutions for shoulder surgery. Our surgeons treat injuries to tendons and ligaments, pain caused by arthritis, fractures and pain from previous surgeries which may have been unsuccessful. They have been pioneers in the use of minimally invasive, arthroscopic surgery which makes procedures less painful, allows for smaller incisions, and causes less trauma to the muscles around the shoulder. Arthroscopy has also allowed for more outpatient procedures, which means you can recover at home and more quickly resume everyday activities.

Our team treats shoulder pain associated with injuries and conditions including:

Rotator cuff injury and tear repair
Tears of the Labrum
Shoulder dislocations
Total shoulder replacement
Reverse shoulder arthroplasty
Frozen shoulder
Complex shoulder surgery revisions for people who have had previous unsuccessful shoulder surgery
Fracture treatment

Trauma Surgery

The orthopaedic trauma surgeons at The GW Medical Faculty Associates excel in expecting the unexpected. After all, our patients don't plan to have injuries; instead they are suddenly thrust into a health scenario they didn't expect, and it's our job to set their bones, set their expectations, and set them on a path towards recovery.

The trauma team is ready around-the-clock with access to coordinated care from a wide range of specialists. We excel in minimally invasive fracture repairs to speed your recovery process. We also utilize fluoroscopic guidance which results in less pain and less added surgical trauma for the patient. Although our patients never planned to meet us, we stand ready to treat them and guide them through an unexpected time.

Our team offers treatments for various injuries and conditions including:

Minimally invasive treatment of distal and proximal tibia fractures
Minimally invasive treatment of femur fractures and complex periarticular fractures
Minimally invasive treatment of acetabular fractures
Minimally invasive treatment of pelvic ring fractures, which decreases surgical pain and results in less scarring and faster mobilization
Reconstruction of non-union and mal-union fractures (non-union fractures fail to unite or heal, mal-union fractures heal in an incorrect position)

Total Joint Replacement

Pain from arthritis got you down? In the Hip and Knee Center, our joint reconstruction specialists offer a range of treatments from non-operative measures to partial and total joint replacement. When possible, nonsurgical methods are utilized first, with a philosophy that the longer the life of a person's joint can be prolonged before opting for joint replacement, the better for the patient. In cases where surgery is needed, our surgeons utilize the least-invasive procedures and most cutting edge replacement techniques to speed your recovery.

Our team treats pain associated with joint conditions, including:

Osteoarthritis
Rheumatoid arthritis
Avascular necrosis
Post-traumatic arthritis
Revision procedures for prior replacements that have worn out or failed
Know What to Expect
If you are having joint replacement surgery at GW Hospital, the Preparing for Orthopaedic Surgery video series will help you prepare. Learn more about the surgical team and what to expect before and after your surgery. Click here to watch the videos.
Latest News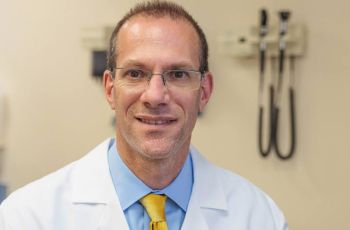 August 1, 2022
Whether you suffer from persistent knee pain and stiffness, or you've suffered a knee injury, knee replacement surgery – one of the most successful surgeries – may be in your future.
May 10, 2022
At the GW MFA, the "Wide Awake" procedure, known as WALANT (Wide Awake Local Anesthesia No Tourniquet) surgery, is performed in-office, with local anesthesia, and is significantly more efficient, particularly in terms of patient comfort, time, waste, and money.