The Worldwide Emergency Communication Center or WECC acts as the main platform servicing the GW Maritime,Global Health Services, and OnSite Programs. The WECC utilizes several global telemedicine capabilities to provide dedicated logistic, and telemedicine coordination to our various remote clients, twenty four hours a day, seven days a week.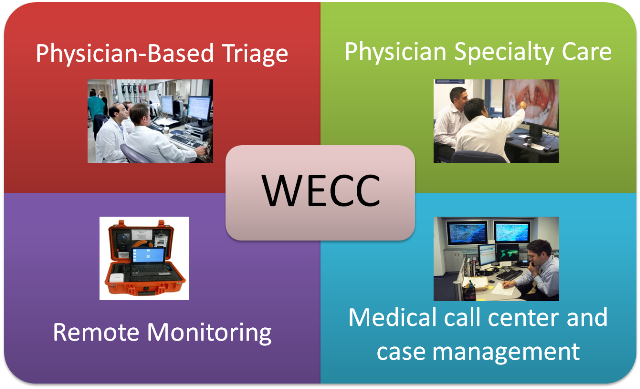 How it Works: From any location in the world, our clients have direct access via phone, email, video or fax to emergency physicians as well as over 550 specialty physicians for remote consultation, medical direction and advice. The medically trained WECC operators assist our physicians and clients during the medical consultation process and ensure that the patient's electronic medical record (EMR) is updated in our secure patient database.
Video Capabilities: In the event that a physician requires visual examination of a client's illness or injury, the WECC operator has the ability to quickly and securely establish a video consultation with the physician using DigiGoneTM Video Telemedicine software. For clients that require a hardware telemedicine solution, the WECC can conduct a video consult.
To arrange a live demo of our telemedicine capabilities via DigiGoneTM Secure Chat or VTC please call 202-741-2936 or email wecc@mfa.gwu.edu.