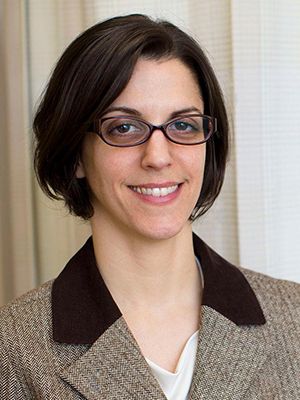 ANNOUNCEMENT (Nov. 7, 2023) – The GW School of Medicine and Health Sciences is pleased to announce that Jillian Catalanotti, MD, MPH, professor of medicine and of health policy and management, will serve as the Associate Dean for Clinical Public Health and Population Health Practice. As the Associate Dean, Catalanotti will report to the Senior Associate Dean for Population Health Sciences and Health Equity, LaQuandra Nesbitt, MD, MPH. She will also continue to serve as Vice Chair for Academic Affairs for the Department of Medicine and to care for patients.
"Dr. Catalanotti is a demonstrated physician leader within the GW academic medical enterprise and has received numerous accolades from students, residents, and faculty members, as a teacher and mentor. Her passion for population and community health, as well as her enthusiastic approach to student and faculty development, will ensure the program's continued success and growth under her leadership. I am excited to welcome her as the incoming Associate Dean for Clinical Public Health and Population Health Practice," said Nesbitt.
In this role, Catalanotti will be responsible for the supervision of the faculty, staff, budget, and administrative functioning of the curricula and programming for population health and health equity. She will work to expand the curriculum to serve all health care training and education programs within the school. Catalanotti will also enhance, through and equity lens, research capacity in population health and health equity for all learners within SMHS. She will promote population health practice and align community engagement and service-learning programs with local community health needs. Catalanotti will work in partnership with the leadership of SMHS, the GW MFA, the GW Hospital, the Cedar Hill Regional Medical Center – GW Health, as well as our clinical partners and the community to lead and facilitate the continuation, growth, and future direction of the SMHS' clinical public health and population health practices, academic curricula, and programming.
Catalanotti joined the faculty in 2008, and has held several leadership positions, most recently serving as director of the Division of General Internal Medicine and previously serving as the program director for the internal medicine residency program. She also co-chairs the SMHS Appointment, Promotion, and Tenure Committee. She has taught in SMHS' Practice of Medicine course for many years, teaching medical students and residents in classroom-based sessions and at the bedside, and has designed and taught college-level public health courses on areas of intersection between medicine and public health for the university through the Milken Institute School of Public Health. She is the cofounder of the Underserved Medicine and Public Health concentration for the internal medicine residency program.
As a highly respected clinician and author, Catalanotti has been published in multiple high-impact journals and has been an invited speaker at national meetings. Her work mainly focuses on the effectiveness of graduate medical curricula and the impact of graduate medical education environments on resident and faculty perceptions and patient care. In recent years, she has studied barriers to opioid use disorder (OUD) training for residents, has worked on three grants related to delivering treatment to patients with OUD, and has started a support line to advise providers caring for inpatients with OUD at GW Hospital. She is a member of multiple professional organizations, including the Alliance for Academic Internal Medicine, the American College of Physicians, and the Society of General Internal Medicine.
"I am thrilled to begin serving in this role, which is the culmination of my career interests and personal/professional mission. SMHS has been an incredible place to care for diverse patients, to teach socially engaged learners, and to work alongside committed colleagues. I am excited to give back to our faculty, staff, learners, and patients in new ways," said Catalanotti.
Catalanotti earned her undergraduate degree in Molecular, Cellular, and Developmental Biology at Yale University, where she also earned her Medical Doctorate degree. She earned her MPH degree with a concentration in Family and Community Health at Harvard University School of Public Health and completed her Internal Medicine Internship and Residency at Beth Israel-Deaconess Medical Center.
Catalanotti will begin serving as the Associate Dean for Clinical Public Health and Population Health Practice on Jan. 1, 2024.