"The Right Care; at the Right Time; in the Right Location"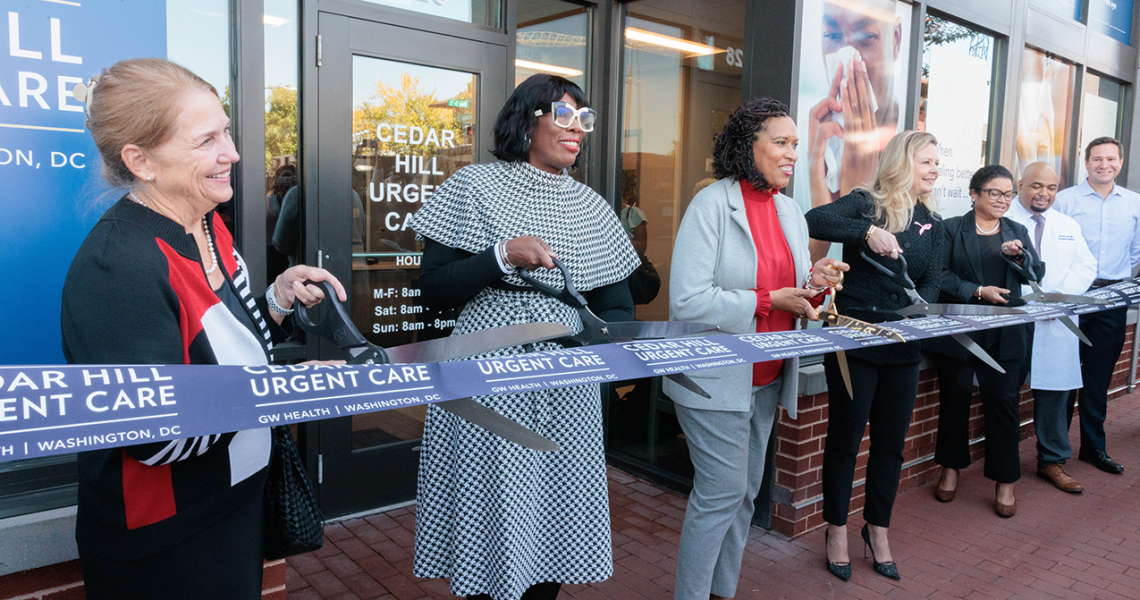 More than 100 people were in attendance, as Washington, D.C. leaders and representatives from Universal Health Services, the George Washington (GW) School of Medicine and Health Sciences (SMHS), and GW Medical Faculty Associates (GW MFA), cut the ribbon on a brand-new Cedar Hill Urgent Care Center in Southeast, D.C., Oct. 7, 2022.
The event offered an opportunity for District leaders, including Mayor Muriel Bowser and Ward 8 Councilmember Trayon White, as well as Kim Russo, chief executive officer of GW Hospital and the Group Vice President for the Washington, D.C., Region for Universal Health Services; and Barbara L. Bass, MD, GW SMHS Dean and CEO of the GW MFA, to stress the importance of the new Urgent Care Center in Ward 8.
"We have invested and worked long and hard for high-quality health care for all Washingtonians east of the [Anacostia River]," said Mayor Bowser. She thanked the community members in Ward 8 for their support, and Universal Health Services and GW for their investment in the health care infrastructure, including the new urgent care center.
With the ribbon cutting, the neighborhood gets a step closer to fulfilling the vision of building a new, comprehensive health care system and creating a healthy community.
"Access to health care is a fundamental human right. Our goal is to get an affordable, accessible, and available health care system for residents throughout our city," said White. "We want to ensure all residents have access to medical treatment – at moments like this, we realized the future is getting brighter and brighter for those who were left out of the equation."
"Let's recognize that when we are cutting the ribbon, we are opening the doors for people who have not had access to care," added Ward 7 Councilmember Vincent Gray. The Cedar Hill Urgent Care is open 7 days per week – from 8 a.m. to 8 p.m., he told the crowd.
The urgent care will provide an array of services including prenatal care, X-rays, and blood work, and will be fully integrated with the Cedar Hill Regional Medical Center – GW Health, the new hospital that is slated to open in early 2025 on the St. Elizabeths Campus.
"This is a vital addition to health services east of the Anacostia River," said Russo. "Opening Cedar Hill Urgent Care here in this historic Ward 8 is the first step in creating this robust academic medical network which will enhance access, equity, and the outcomes in our Nation's Capital."
"We are thrilled to serve the health care needs of the people of Anacostia," said Bass. "This is one project that, during the dark days of the pandemic, has served as a vision of hope and aspirational activity for our faculty, students, and residents. We are proud of the many years of health care that we have provided to the citizens of Ward 7 and Ward 8, and we are pleased that these patients will no longer have to cross town to get care. We're looking forward to providing convenient, accessible health care to address the health disparities that exist in our city."
The new clinic officially opened and began seeing patients on Oct. 10, 2022.