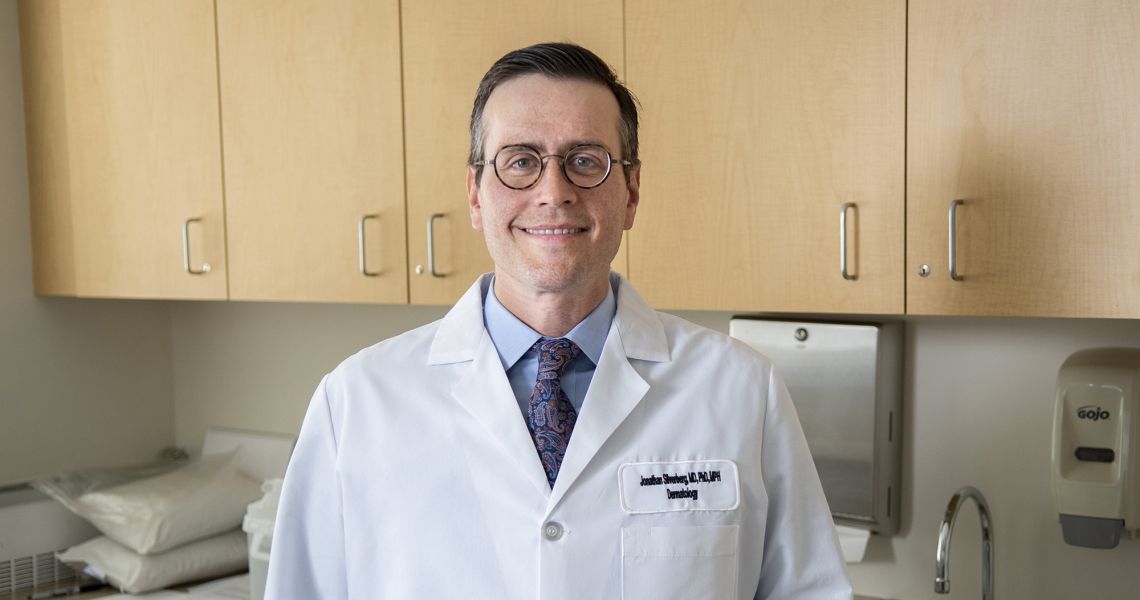 Frosty weather, wind, and lower indoor humidity can turn even the healthiest of skin dry, itchy, and scaly. Misconceptions on how to pre-empt dry skin abound – taking hot showers, exfoliating, drinking more water – but they're ineffective, says dermatologist Jonathan Silverberg, MD, PhD, MPH, director of clinical research and contact dermatitis at the George Washington University (GW) Medical Faculty Associates (MFA). Here, he explains how to treat your skin with gentleness and care to ensure that the wintry months are less severe.
Why do we get dry skin during colder months?
Silverberg: Several things happen during the colder months that can increase dry skin. Cold air can't hold as much moisture, which results in lower outdoor humidity. Use of indoor heating, particularly central air heating, further reduces indoor humidity. During the colder weather months as well, there are often more gray skies and cloud cover, and we spend more time indoors due to the cold, which leads us to get less sun exposure. This in turn can lead to lower vitamin D levels and increased inflammation in the skin, which can aggravate eczema and dry skin. 
What are common misconceptions about how to remedy dry skin?
Silverberg: There are many misconceptions:
Certainly, if someone is dehydrated, their skin won't be well hydrated. However, in most circumstances, drinking more water does not help dry skin. 
Most exfoliants are irritating to the skin, and many can worsen dry skin.
Many patients like taking very hot showers to alleviate winter itch. The reason why hot showers feel so good when someone is itchy is that the hot water induces a pain response that temporarily decreases itch. The problem is that the hot water damages the skin barrier and leads to increased dryness and itchiness long-term. I recommend patients take showers or baths with warm water rather than hot water.
Some patients think that lotions are more effective moisturizers than creams or ointments because they contain more water as an ingredient. However, the water in lotions evaporates quickly upon application and does not hydrate the skin. I generally recommend that patients use a thicker cream or ointment moisturizer for enhanced efficacy. Thicker creams and ointments act like a barrier for the skin and seal moisture into the skin.
What is an effective treatment?
Silverberg: There are many effective treatments for dry skin: 
It is important to identify and treat the underlying cause of dry, scaly skin, such as eczema or psoriasis.
Gentle skin care approaches are often highly effective. These include taking shorter showers or baths (less than 15 minutes). Do not take multiple showers per day. 
Apply moisturizer at least once a day. The best time to apply moisturizer is after the shower or bath. 
Use personal care products that are free of fragrances and other irritating ingredients.
When should you see a dermatologist for dry skin?
Silverberg: People should consider seeing a dermatologist when their dry skin is itchy or painful or is not getting better with the above-mentioned treatment approaches.
Can patients do anything to prevent dry skin?
Silverberg: Many of the previously mentioned treatments, such as daily moisturizer and short shower durations, can be used to prevent dry skin. If someone knows that they are prone to dry skin in the colder months or other times of year, I recommend that they proactively use gentle skin care practices and regular moisturizer to prevent the dry skin from appearing in the first place.
What other resources do you suggest?
Silverberg: I chair an international conference on atopic dermatitis called Revolutionizing Atopic Dermatitis (RAD). Our next meeting will be held virtually due to COVID on December 11-13, and we will address many of these issues about skin care. If patients are interested in learning more about atopic dermatitis or how to best care for their skin, this event is a good option. (For more information, email info@revolutionizingad.com.)
---
To make an appointment with a dermatologist, visit GW Dermatology or call 202-741-2600.