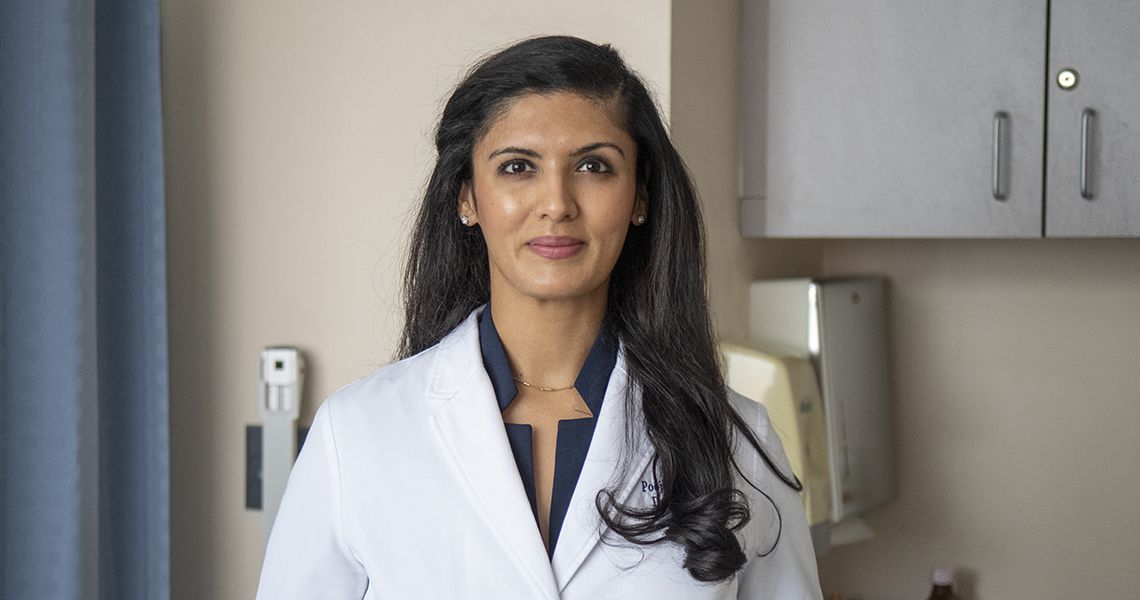 Stork bites and angel's kiss sound poetic, but they actually describe vascular birthmarks, skin changes that commonly appear at or shortly after birth. These marks may change over time, so it's important to get a dermatologist's opinion from day one. Here, Pooja Sodha, MD, director of the Center for Laser and Cosmetic Dermatology at the George Washington University (GW) Medical Faculty Associates (MFA) and assistant professor of dermatology at the GW School of Medicine and Health Sciences, discusses the basics of vascular birthmarks, including the different kinds and treatment options.
What are vascular birthmarks?
Sodha: Vascular birthmarks are noncancerous (benign) skin changes that appear as discoloration of the skin caused by blood vessels that are not correctly formed. They are common in newborns and may be present at birth or shortly thereafter. Typically painless, these birthmarks may remain unchanged or grow depending on the type. Early evaluation with a dermatologist is important because prompt intervention, if appropriate, is extremely helpful in reducing growth and minimizing potential complications, such as swelling, darkening of the skin, thickening of the skin, spontaneous bleeding, or compression of nearby structures.
How many kinds of vascular birthmarks are there?
Sodha: There are several categories, depending on the type of vessel (capillary, venous, or lymphatic) involved. Consultation with a dermatologist can help to determine the subtype, the prognosis, and potential avenues for treatment. 
A few of the most common forms are:
Salmon patch/stork bite/angel kiss (nevus simplex): Common among newborns, it appears as a flat pink patch that may become more prominent when the baby cries or when the temperature changes. It may fade within a few years.
Infantile hemangioma: A benign vascular tumor (overgrowth) that often shows rapid growth within the first few months with spontaneous partial or complete resolution. Early treatment in certain cases can be helpful to avoid functional or aesthetic issues, depending on the location and size. I recommend referring patients to a pediatric dermatologist to help navigate treatment for this.
Port-wine birthmark: Also referred to as a capillary malformation, this may present within the first days to weeks of life. It typically presents as solitary red patches with sharp edges but may involve multiple areas. If it involves the forehead, there may be an association with Sturge-Weber Syndrome. 
When do they first appear, and how long do they typically last?
Sodha: It is important to determine whether the vascular anomaly was present at birth or developed in the first days/weeks of life. Some may appear at birth, and others may evolve after birth. If parents can take pictures at birth and over time, that can be very helpful to dermatologists as they try to understand the changes over time and make a diagnosis. It is also a helpful way for parents to monitor changes as well because the early days and months with a new baby can be busy.
Are vascular birthmarks ever a sign of a more serious condition?
Sodha: In some instances, we want to evaluate if there are other organ systems involved or an underlying genetic cause. These are best evaluated early in life under the care of a pediatric dermatologist and a geneticist. 
How does the GW MFA help patients with vascular birthmarks?
Sodha: Depending on the type of birthmark, we can combine oral medication and laser therapy to manage the evolution, cosmesis, and side effects associated with birthmarks. We offer laser treatments to adults and pediatric patients with port-wine birthmarks and adult patients with other vascular birthmarks. We have a strong relationship with our team and partners at Children's National Hospital, where we refer pediatric patients needing work-up, surgical evaluation, and laser treatments.
---
To make an appointment with Dr. Sodha, please visit the GW Center for Laser and Cosmetic Dermatology or call 202-741-3244.