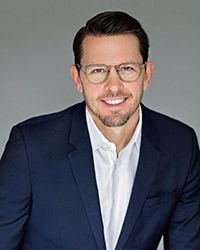 ANNOUNCEMENT (July 11, 2023) - The George Washington University (GW) Medical Faculty Associates (GW MFA), is pleased to announce the appointment of Christopher T. Smedley, MPM, as the Chief Clinical Affairs and Strategy Officer. Smedley served as a consultant in this role, and officially transitioned into the position on May 1, 2023.
"The GW Medical Faculty Associates is poised to become the destination health care organization in the DMV and I know that with Chris Smedley's leadership, we will attain that goal. He is a thoughtful and strategic leader, with a track record of success, who has already made important contributions to the organization in his short time here. I look forward to seeing the incredible strides that Chris will make in leading the transformation of our health care institution," said Barbara L. Bass, MD, FACS, professor of surgery, vice president for health affairs, Walter A. Bloedorn Chair of Administrative Medicine, dean of the GW School of Medicine and Health Sciences, and CEO of the GW MFA.
As the Chief Clinical Affairs and Strategy Officer, Smedley will be responsible for leading the development of a high-performing, multi-specialty academic faculty practice group to serve the missions of the GW academic medical enterprise. He will build a high-caliber organization capable of delivering quality, patient-centered care that will transform academic health care access in the nation's capital.
Smedley will lead the organization to best-in-class operational performance and develop financial standards for sustainability and expansion. He also will drive innovation in care-delivery models, including the implementation of interprofessional care teams, technology-enabled care models, and an expansion of services as identified by market opportunities.
Smedley joins the GW MFA, with 25 years of leadership experience in the consulting and academic health care industry, most recently serving as a managing director for BDC Advisors, LLC, where he partnered with health systems to address the strategic imperatives needed to evolve and thrive in the current health care market. His background includes several leadership positions at leading consulting firms and renowned health care organizations. Smedley also held positions at the University of Pittsburgh Medical Center, where he was an executive administrator of the cancer service line and the finance director and assistant service line administrator for the department of pediatrics.
"The opportunity to lead the GW MFA into its next iteration of success is exciting and I am thrilled to be a part of this evolving organization. I've had the opportunity to serve more than 100 health care organizations in my career — many of which were academic medical practices — helping to identify and implement strategies to enable organizations to achieve greater results while transforming the patient and provider experience. I look forward to working with our leaders, care providers, and staff to build the GW MFA for the future," said Smedley.
Smedley earned a Bachelor of Science in Health Management Systems at Duquesne University and a Master of Public Management in Health Services Administration from Carnegie Mellon University.