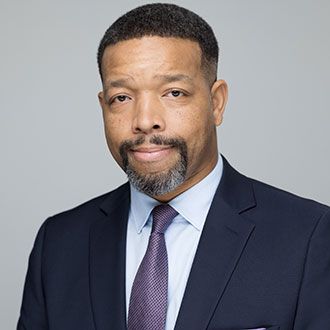 May is Mental Health Awareness Month, and this year the observance comes as the United States begins to roll back restrictions brought about by the COVID-19 pandemic. The pandemic, and even the process of a return to normal, has significant consequences for our mental health.
Lorenzo Norris, MD, chief wellness officer for The George Washington University (GW) Medical Faculty Associates, GW Hospital, and the GW School of Medicine and Health Sciences, explains the impact of the pandemic on mental health, how you can check the status of your own mental health, and how you can help your loved ones who may be struggling.
Q: How has the COVID-19 pandemic affected mental health?
Norris: The pandemic has had a significant effect on mental health. The first thing we want to do is think of the pandemic as a specific disaster that has associated emotional responses. These emotional responses have been well-documented. People experienced fear and worry at the early stages, then there was the spirit of altruism and being there for each other, as well as optimism. But then, especially in the fall and winter, people were likely to experience grief and sadness in acknowledging what is lost. Right now, we are finally at a point of reconstruction where we acknowledge what we lost and come out of it.
In terms of psychiatric symptoms, across the board, we've had anywhere from a 50-100% increase in rates of anxiety and depression across the general population, but particularly in those who have been frontline workers. Additionally, we've seen an increase in substance use and a large increase in feelings of loneliness. The pandemic has had numerous effects on the mental health of the population. You can view it as almost a system-level trauma and the effect of social isolation and distancing. We are just now coming to terms as we are coming out of the pandemic.
Q: As more people get vaccinated and restrictions are scaled back, how can I prepare for a return to normal, or almost normal, going back to work in-person and returning to in-person social situations?
Norris: As we transition into something approaching normal, it's not going to be quite the same. As is the same with any transition, you need to come to terms with what it is you have lost. Many of us have been soldiering on through this. As we start to come to the end of this, we may feel many of the strong emotions we haven't had a chance to deal with since we've been busy or consumed with navigating the pandemic.
There is concern regarding the social isolation. You might have to learn how to be social again. We spent the better part of a year with masks, six feet apart, and, depending on where you are, with a very insular group of people. Learning to become comfortable with being in social interactions will certainly be an adjustment.
Q: What are some signs that my mental health might be suffering?
Norris: The first thing to look at is your mood. If you find that, for the most part, your mood is low, regardless of the situation, that is an absolute sign. Another sign is that you find yourself experiencing a lot of intense anxiety and worry that predominates your day. You might feel like that anxiety or fear can overwhelm you. When your mood or anxiety start to impede your ability to either function at work or engage in typical social relationships, those are signs that your mental health is something you should think about. If you start to have thoughts, even subtle ones, questioning whether you want to go on in life, these are clear indications that it is time you reach out and get some support.
I would look at our behaviors and what we do to cope emotionally, such as increased alcohol use and emotional eating. Now, everyone has been doing a bit of this, and we've seen this across the board. However, if your alcohol use is getting to a point where you are drinking 2-3 drinks every night to suppress strong emotions or you need it just after you come home, this becomes an issue. If you're doing the same thing with food as opposed to talking it out or expressing yourself, this can also become a point of concern.
Q: What steps can I take to ensure I am taking care of my mental health?
Norris: The best thing you can do is have an honest check-in with yourself without judgment. One way to do this is to compare where you are right now to where you were at your best or at your baseline. Check in, and ask yourself what mood you are in, what your sense of worry or anxiety is, and whether you feel you are living a life you want to live.
Next, ensure you are engaging in healthy behaviors. Is your sleep where it needs to be? Is your diet where it needs to be? What about exercise? These are common things, but what you will find is that when our mental health starts to go awry, many of these areas also start to go awry. Also, look at your relationships and whether you are fully present and able to enjoy your relationships.
If you are currently being treated for a mental health condition, you've been treated for one in the past, or if a member of your family has been treated for a mental health condition, this is not a bad time to get a check-up. If you've been out of therapy, it certainly would not hurt to go back for session to see where you are at.
Q: What can I do if someone I love is struggling with their mental health?
Norris: The first thing is be available. When they want to speak with you, give them your full attention. Second, don't judge what they're going through or give premature advice. Your job is to listen. Third, tell them what you are hearing from them and make sure you are hearing them correctly. That in and of itself, someone is feeling heard, is extremely useful. Finally, offer to be of support to that person if they choose to seek help. Let them know you are there for them, you support them, and you believe there are resources available allowing them to continue to support themselves.
What I would not do is try to become that person's therapist. You want to listen, be attentive, be supportive, and you want to honor and respect the other person and direct them to whoever is going to provide the best help. If you become a person's therapist, then they lose their friend, mother, father, whatever your relationship is to them; they need you in that role first.
Q: What tips do you have for those who are concerned about their mental health?
Norris: First off, you're not alone. We are all in this together. Don't isolate yourself. Second, find someone you trust and just talk with them. Third, utilize your strength to get the support you need. Reach out and set up an appointment. One appointment is not going to hurt you, it's going to help you. That's the biggest thing.