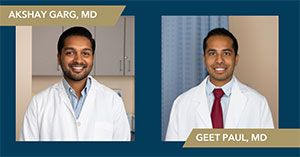 As pandemic restrictions begin to ease, many employees are finding themselves in permanent hybrid mode: working at both the office and at home. Between sporadic commutes and screen-based days, back pain can be inevitable. Here, Akshay Garg, MD, assistant professor in the Division of Physical Medicine and Rehabilitation at the George Washington University (GW) Medical Faculty Associates (MFA), and Geet Paul, MD, assistant professor and director of the Division of Physical Medicine and Rehabilitation at the GW MFA, offer guidance on how to manage back pain and when to seek help.
---
Q. Why is it important to stay active if you have back pain?
Garg: Staying active can help with many aspects of your health, including controlling your weight, preventing any worsening of your back pain, and also helping support mental health. We want to encourage our patients who continue to make such great progress managing their back pain to stay active.
Many studies have shown that exercise, especially aerobic exercise, can benefit you just as well as physical therapy or a weightlifting program. During inactivity, your back can stiffen and worsen your pain, and during prolonged periods of being inactive, the muscles that support your back can weaken.
Exercise will also help lift your mood, allow you to sleep better, and lower your stress. As we know, stress can also induce worsening overall pain. In addition to helping with chronic pain, staying active has numerous other health benefits, including lowering your cholesterol and blood pressure and keeping your blood sugars under better control if you're diabetic.
Q. What can cause back pain, especially if you're working at a desk, either in an office or at home?
Paul: Poor posture can lead to back and neck pain. We have to resist the urge to fall into bad habits, such as working on your laptop while lying on the couch or the bed. This can put extra stress on your spine and the muscles that help support it. Prolonged sitting and leaning forward will put extra force on your intervertebral discs, which can lead to degenerative disc disease, a common cause for back pain.
To avoid bad posture, it is important to establish a proper workstation. A computer screen should be at eye level, shoulders should be relaxed and not hunched up, arms should be parallel to the floor, and both feet should be flat on the ground. Also, remember to take breaks every half hour or hour to stand and stretch. This will prevent your back from getting stiff and also take some pressure off your spine.
Q. How can you maintain a healthy spine?
Paul: Following a healthy lifestyle goes a long way to having a healthy spine. This includes maintaining an ideal body weight, building an exercise program that includes core and lumbar strengthening, as well as eating healthy and having a proper stress management routine. Yoga, Pilates, and tai chi are fun exercise programs that may help back pain.
Q. When should you see a doctor for back pain?
Paul: I'd encourage patients to have their pain evaluated if it is a new onset of back pain that is not getting better, or if the pain is becoming severe. Back pain that is ignored can make things worse. The earlier we treat back pain, the better the prognosis.
There are some instances when pain can be a symptom of a more serious problem, such as a fracture, infection, or cancer affecting the spine. Therefore, it is important to speak to a physician to rule out these more serious conditions.
If you have any of the following, you should speak to your physician immediately: fever associated with back pain, unexplained weight loss and loss of appetite associated with back pain, back pain after trauma, sudden loss of control of bowel or bladder function, weakness in your legs, or severe worsening of the pain.
Q. What telehealth services does GW provide for patients with back pain?
Garg: Providing compassionate care for our patients is something we take great pride in at the Division of Physical Medicine and Rehab at the GW MFA. Telehealth has helped tremendously, not only with our established patients by continuing to help with their pain, any new symptoms they may be having, medication management, and reviewing their imaging and labs, but we can also evaluate new patients who may be in need of our services.
Patients can be seen using their computer, their tablet, or even their phone, and the GW MFA has prepared a very helpful outline to show patients how easy it is to use this video feature. I encourage all patients to make use of this service for their care.
Paul: Telemedicine has allowed us to evaluate low back pain and be able to provide a diagnosis and a treatment plan. This may include a referral to physical therapy or establishing a home exercise program and providing a prescription for medications for those patients who are not getting better with conservative treatment. We can also discuss how interventional treatment options, including epidural injections and nerve blocks, can help the pain and reduce the amount of painkillers taken.
---
To schedule an in-person or virtual appointment with Dr. Geet Paul in the Division of Physical Medicine and Rehabilitation, please call (202) 741-2700.