Tameka Lewis, administrative assistant at the George Washington University (GW) Medical Faculty Associates (MFA), finds inspiration and happiness in her work with colleagues and patients – and the feeling is mutual. In Lewis's daily life, gratitude is easy to come by. Here, she talks about what she loves, what she appreciates, and what she's learned.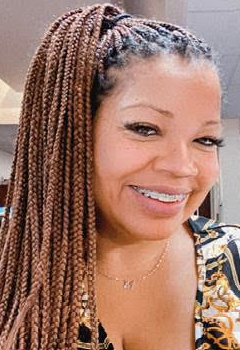 Q. What is your role at GW, and what does it entail?
Lewis: My role is an administrative assistant for the GW MFA. I provide support for multiple physicians and facilitate patient care.
Q. How did you get started at GW?
Lewis: I began my journey at the GW MFA in 2008, and I'm still going strong.
Q. What accomplishments here are you particularly proud of?
Lewis: I am proud of being a part of the GW MFA family and being able to mentor and provide support to the patients and my coworkers. Daily, I receive multiple compliments, superlatives from patients about my work ethic and the outstanding experience that I'm able to provide.
Q. What lessons have you learned while working here?
Lewis: Make connecting with others and teamwork a priority, remember to always stay positive, and look on the bright side. Focus on developing and using your strengths and staying connected, to reach your maximum potential and maintain a healthy work-life balance.
Q. What inspires you the most about your job?
Lewis: I love working in the health care field because there is nothing more rewarding than being able to assist those patients in need. To have the purpose to serve others and being able to assist in preserving their health is such a joy for me.
Q. What do you appreciate about your job?
Lewis: I'm grateful to work with such a wonderful team of coworkers. I would like to spotlight my supervisor/mentor Carlita Felder; she has been a very big part of my longevity here at the GW MFA, and so has being able to work with such a GREAT team of doctors: Drs. Juliet Lee, Paul Lin, Khashayar Vaziri, and Bruce Abell, and nurse practitioner Sara Russell. They make it all worthwhile.