Saundra Obidiaso, medical assistant at the George Washington University (GW) Medical Faculty Associates (MFA), has one of the greatest joys in medicine: She gets to help bring new life into the world. She has also had an opportunity to grow in a department that has nurtured her ambitions with compassion and empathy, echoing her own natural skill for care. Here, Obidiaso discusses the growth she's seen and experienced at the GW MFA and what she's learned along the way.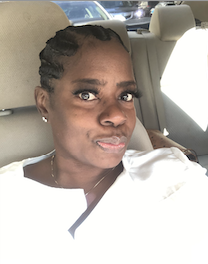 Q. What is your role at GW, and what does it entail?
Obidiaso: My role at GW is a medical assistant at the GW MFA Department of Obstetrics and Gynecology (OB/GYN). I assist with direct patient care: vitals, injections, triage, and preparing rooms for patients. I also assist the doctors with procedures, such as EMB [endometrial biopsy], colposcopy, hysteroscopy, and family planning procedures, including IUD and Nexplanon insertions. There's so much more that falls under this title that we do as medical assistants.
Q. How did you get started at GW?
Obidiaso: I started as a new grad in 2007, working in the OB/GYN department on the fifth floor at the Pennsylvania Avenue location, with help from a friend who had recommended me for the job. After some time, an opportunity presented itself to become a medical office assistant while still in my medical assistant role.
Q. What accomplishments here are you particularly proud of?
Obidiaso: I am glad to have observed the growth of the department. When I started, we only had one location for the OB/GYN department; now, we have three sites for OB/GYN. The expansion has enabled me to move into a different role as a medical office assistant while still serving as a medical assistant at one of the new sites that has opened.
Q. What lessons have you learned while working here?
Obidiaso: That there is no "i" in team; that we are one unit with one goal, which is to serve our community and patients from all walks of life; and that we never know what someone is dealing with, so be ready and willing to help.
Q. What excites or inspires you the most about your job?
Obidiaso: To see new life. Working in OB is so exciting; just imagine having seen a patient for nine months, and at the end, there is a new life, one that is just beginning. You have had a hand in bringing forth such a blessing, along with the doctor, nurses, and everyone who played a part in giving such care to the patient and their family. There is no greater joy than this new-life experience.
Q. Anything you'd like to add?
Obidiaso: I want to thank this community for letting me be a part of it, and with such compassion and empathy for growth in this learning environment, so I could embrace my calling in helping people.