Cindy Lovoz, a medical administrative specialist at the George Washington University (GW) Medical Faculty Associates (MFA), is the kind of person every medical center needs: a selfless helper. She ensures everything runs smoothly for both patients and the health care team, and she genuinely enjoys not just the work, but also the people themselves. Here, Lovoz describes her path to the GW MFA and how powerful her positive mindset can be.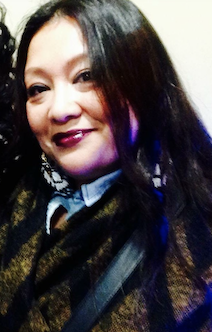 Q. What is your role at GW?
Lovoz: I am a frontline medical administrative specialist with a background in medical assisting for the Division of Hospital Medicine. I work closely with the medicine hospitalists, chief residents, and medicine teams at GW Hospital. My job description involves a wide variety of tasks and responsibilities ranging from triaging a patient's call to making sure patients get their follow-ups scheduled or have medication authorized prior to leaving the hospital. I also follow up on tasks such as credentialing documents and maintaining an efficient office area for the medicine teams.
Q. How did you get started at GW?
Lovoz: I started as a temporary-to-permanent employee for a staffing agency in 2008. I provided coverage as a floater for the GW MFA admins in various departments and performed basic administrative tasks, from answering calls to scheduling appointments for the patients, and helping reduce workflow. Eventually, I was hired permanently as a medical administrative specialist. Since then, my role as a medical administrative specialist is not only to focus on the operation of a medical office, but also to be the center for faculty, residents/interns, medical students, and the medicine hospitalists to connect and feel welcome when they come in the chiefs' office. It is a place to come together and learn from one another.
Q. What accomplishments here are you most proud of?
Lovoz: Perhaps that I managed to build my role of duties and responsibilities throughout the years of working at GW Hospital when I started in inpatient care. I had to learn the operations of inpatient service to provide the medicine hospitalists with the proper assistance to work in a fast-paced environment. It was not easy in the beginning, but I did not give up. I kept showing improvement and growth.
Q. What lessons have you learned while working here?
Lovoz: I am always going to learn something new in inpatient care. It is what brought me to this department, which led to my interest in being in the center of the frontlines of inpatient service.
When the pandemic started, I learned to be patient with others, to make a connection with those in need of support and motivation when times are difficult. Remember to look on the brighter side of things. Every day isn't going to be the best day, and some days can be downright challenging, but if we work together, we can overcome anything.
I come to work to with a mindset that I am here to provide my best customer service and empathy to families and patients during times like this. That is why I appreciate the nurses, the hospitalists, our wonderful medicine teams, the EVS [environmental services] workers, you name it, everyone who makes this place run the way it does. I could not ask for more; we all play a vital role.
Q. What excites you the most about your job?
Lovoz: I get to work for a wonderful group of hospitalists who appreciate me and my assistance. I meet new chief residents every year and residents and medical students from diverse backgrounds, nationalities, and cultures from all over the world. It is what makes my job so exciting.
Q. Anything you'd like to add?
Lovoz: It has been my pleasure and privilege to work with a diverse community over the years. Thank you so much for the opportunity at the GW MFA