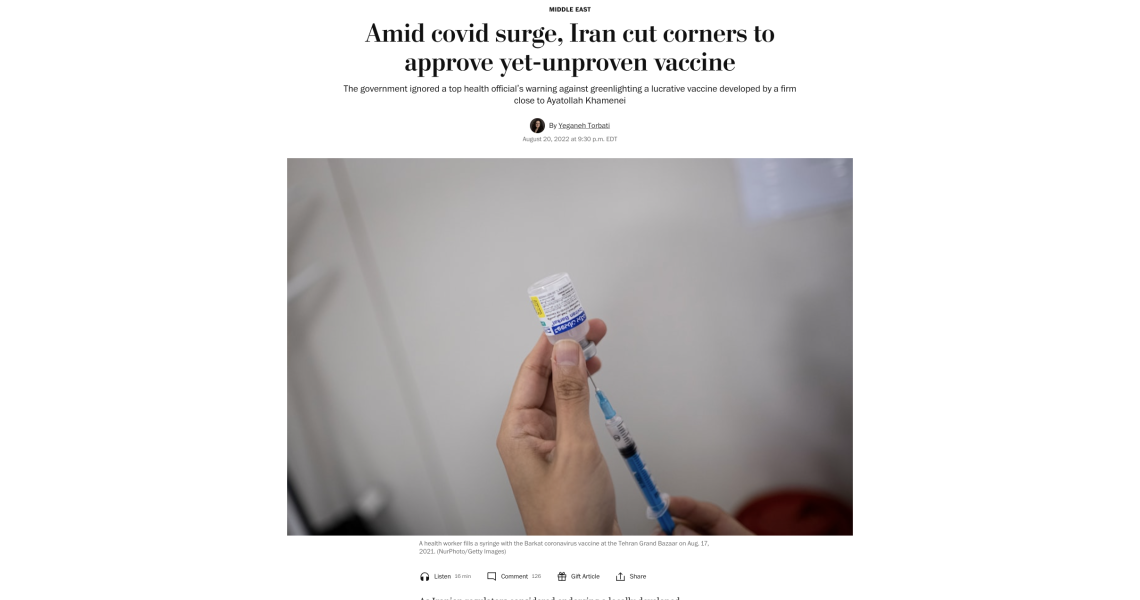 As Iranian regulators considered endorsing a locally developed coronavirus vaccine a year ago, a top health official issued a stern warning, saying the test results were insufficient and the vaccine's approval could undermine efforts to contain the country's raging epidemic.
Deputy Health Minister Farid Najafi wrote to his boss that allowing use of the vaccine by the general public before it met scientific standards "is a serious and historic decision that will determine the future of public confidence in the health system."
But the vaccine had influential backers. It was the highly touted project of a company called Barkat, part of a sprawling corporate empire close to Iran's supreme leader, Ayatollah Ali Khamenei.
...
In March of the following year, Mokhber said the company was now prepared to mass-produce the vaccine. "We promise to the beloved Iranian nation that in 2½ months, we won't have to worry about vaccine shortage in this country," he said.
Iranian officials portrayed this endeavor as a point of national pride that would catapult Iran into an elite group of scientifically advanced countries. After the government's troubled response in the early days of the pandemic, much of the Iranian media devoted wide and favorable coverage to Barkat's project.
"There's a desire to record a win for the supreme leader," said Amir Afkhami, a professor and expert on Iranian public health at George Washington University. "On top of that, there's a financial gain and the financial power and the revenue stream that Setad provides for Khamenei."