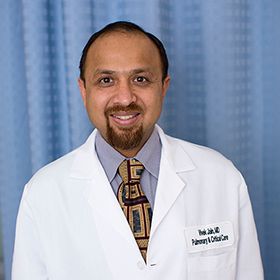 Any health care expert will tell you that one of the keys to maintaining productivity and energy during your day is a good night's sleep. That restful night, however, comes with practicing good sleep hygiene, including limiting screen time before bed and giving yourself ample time for sleep. Frequent interruptions to sleep and daytime sleepiness may be indicative of sleep apnea and warrant a consultation with a sleep expert.
Here, Vivek Jain, MD, director of the Center for Sleep Disorders at The George Washington University (GW) Medical Faculty Associates, discusses sleep apnea and the treatment offered in the clinic.
What are some of the sleep problems you see the most at the GW Sleep Center?
Jain: The biggest problem we see in our clinic is people experiencing sleepiness during the day despite sleeping at night. The primary cause of this is sleep apnea, meaning that you are struggling to breathe as needed during sleep. This can cause snoring or gasping for air. Waking up several times to use the bathroom also can be attributed to sleep apnea.
Is snoring at night something to be concerned about?
Jain: Snoring alone is very common. About 70% of all men and 40-50% of all women do it. But snoring in addition to feelings of poor-quality sleep, headaches, sleepiness during the daytime, or any high blood pressure problems should be investigated further.
At what point should someone consider participating in a sleep study?
Jain: Sleep studies are recommended if a patient feels they are experiencing poor-quality sleep, daytime sleepiness, and frequent awakenings.
What population is most impacted by sleep apnea?
Jain: Sleep apnea was always suspected as more prevalent in middle-aged men around the age of 40. Obesity and being overweight are risk factors as well for sleep apnea. In women, the risk for sleep apnea increases and becomes almost equal to men when they hit their mid-40s. Women tend to be what we call "quiet sleep apnea patients." They come in with more complaints of insomnia and sleep disturbances.
It's important to note that one-third of the population with sleep apnea is young, not overweight, and does not snore and still has this condition. If you are in this group and experience fatigue during the day, unexplained feelings of depression, unexplained waking at night, or wake up more than once to go to the bathroom, these symptoms can be predictive of sleep apnea.
What is considered "good sleep hygiene?"
Jain: Good sleep hygiene requires that you give yourself adequate time for sleep. Most humans require seven to eight hours of sleep. Don't cheat on sleep, and try to maintain the same routines at least 90% of the time. Avoid going straight from screen time to sleep time. Screen use – including TV, computer, iPad, and phone – should be shut off at least 30 minutes prior to bedtime. Also, keep your bedroom cool, calm, and dark around sleep time.
Is listening to music or sleep sounds effective in helping someone get to sleep easier?
Jain: Yes, listening to a podcast or soft music or sleep sounds is a way to distract your brain from the thoughts or activity that is keeping your brain awake.
What kinds of treatments are available at the GW Sleep Center?
Jain: For sleep apnea, we have a variety of treatment options. We have continuous positive airway pressure, or CPAP, and bilevel positive airway pressure, or BiPAP. We also have auto PAP and oral appliances, which can be used as an alternative treatment option. In the last year, we also became one of the only centers in the area for the Inspire, which is a hypoglossal nerve root stimulator for the treatment of sleep apnea.
---
If you experience trouble sleeping or are interested in a sleep study, visit: GW Center for Sleep Disorders.