Telemedicine is the practice of medicine at a distance and includes a growing variety of applications and services using two-way video, email, wireless phones and other forms of telecommunications technology.
For over 20 years, the Department of Emergency Medicine has specialized in delivering comprehensive telemedicine solutions and services to patients and providers around the world. The Worldwide Emergency Communications Center (WECC) acts as the operational hub to clinical and cognitive telemedicine consults at the GW MFA. As an academic leader in telemedicine, we continuously connect shipping vessels, yachts, aircrafts, correctional facilities, research teams and organizations around the globe to leading GW MFA providers in the following specialty areas: Cardiology, Emergency Medicine, Endocrinology, ENT, Infectious Disease and Orthopedics.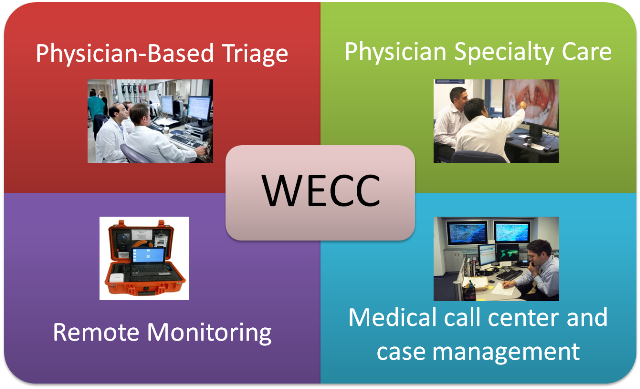 Industries We Serve:
Correctional and Law Enforcement
Commercial Fishing and Shipping
Government and Defense
International Development
Scientific Research
NGO's
Aeronautical
Private and Leisure Travel
The Department also consults extensively on telehealth and is available to assist clients in the development, implementation and adoption of telemedicine programs. With over twenty years of experience in both the domestic and international telemedicine our team is available to help other healthcare facilities, organizations and teams navigate the ever changing field of telehealth including but not limited to: regulation, licensing, reimbursement, and business models.