This component of cannabis doesn't bring on a "high" — but it may help fight inflammation and ease anxiety and stress that trigger flares.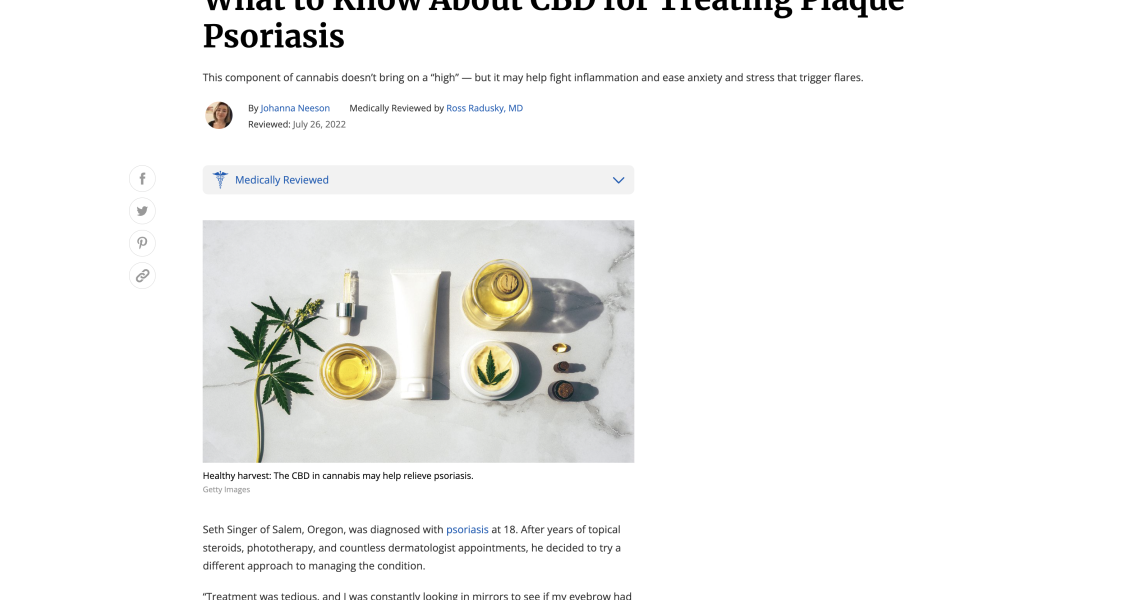 Seth Singer of Salem, Oregon, was diagnosed with psoriasis at 18. After years of topical steroids, phototherapy, and countless dermatologist appointments, he decided to try a different approach to managing the condition.
"Treatment was tedious, and I was constantly looking in mirrors to see if my eyebrow had a huge flake in it," says Singer, now 27. "It felt like insanity — three years of using ointments every day and being a regular at the dermatologist's office and I only achieved a heightened sense of paranoia and insecurity."
Singer turned to products derived from CBD, the component of cannabis that does not produce a "high." Today, he uses topical and ingestible CBD products as part of his daily psoriasis treatment routine and is CEO and founder of Muddy Boot Botanicals, a wellness company based in Salem that sells CBD products.
As a treatment for certain skin disorders, CBD has been drawing a lot of attention. "There's general interest in the dermatology community — and more and more patients in recent years are asking about CBD," says Adam Friedman, MD, professor and chair of dermatology at George Washington School of Medicine and Health Sciences in Washington, DC.