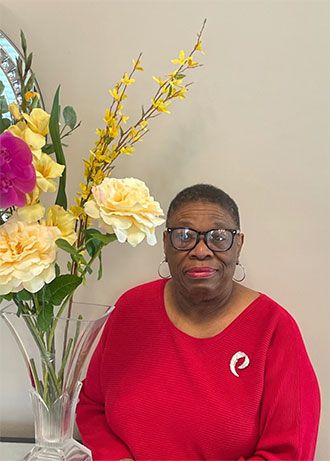 For more than 20 years, Turnice "Necee" Parker Brown has played an important role in ensuring a smooth process for patients and providers at the George Washington University (GW) Medical Faculty Associates (MFA). Whether as an administrative assistant or in her current role as an electronic medical record (EMR) computerized physician order entry (CPOE) specialist, Brown has been committed to the GW MFA's goal of ensuring patients receive the right care. Brown plans to retire later this year and return to volunteering at the American Cancer Society Hope Lodge, which provides a place for oncology patients to stay while receiving medical treatment.
Q: What is your role at the GW MFA, and what does it entail?
Brown: My role is as an EMR CPOE specialist. I am responsible for maintaining up-to-date account and provider information for order vendors, notifying them of any new or departing providers, and ensuring new providers are receiving appropriate result tasks from the CPOE process. I verify that providers are associated with the correct specialty and account, and I verify that any resident or fellow tasks are also created based on the provider's supervisory status. Additionally, I monitor order-related system tasks to ensure the correct ordering physician is receiving patient results. I'm the point person for application vendors reporting problems and entering "fix" tickets. I provide follow-up for providers and staff in the clinics and departments, validate workflow, document problems, report issues to IT, conduct troubleshooting testing, and perform software testing for upgrades.
Q: What got you interested in working in the medical space?
Brown: It started with my mother, who was an RN. As children, my cousin and I decided to do volunteer work at D.C. General Hospital, where my mother worked. Years later, after living in Berlin, Germany, and then Biloxi, Mississippi, I moved back to the D.C. area and need to find work. My mother's friend had a position at a nursing home in Southeast and invited me work there until I found another job. I then found an ad in The Washington Post for unit secretary at Suburban Hospital, Johns Hopkins Health Care System. I worked at Suburban Hospital for the next 10 years and never thought about leaving medicine.
Q: How long have you been with the GW MFA?
Brown: I've been with the GW MFA since October 13, 1998. Since then, I've served as a cardiology administrative assistant, cardiology fellowship coordinator for their three programs, and my current position.
Q: Why were you interested in a role at the GW MFA?
Brown: The GW MFA found me. I had recently lost my son Aaron to leukemia when I stopped work to be his caregiver. After his death, I needed to go back to work. I saw an ad in The Washington Post for a temp agency. I interviewed with the agency, and my second assignment was in the Department of Cardiology. I became a permanent part of the staff on October 13, 1998 with the assistance of Dr. Richard Katz.
Q: Was there a moment during your time here when you realized the impact your role has on the organization and on patients?
Brown: Yes, while working with the lab and radiology vendor, I realized that it really is up to me to ensure the providers receive the results in a timely manner so they can give each patient the proper health care.
Q: What excites you the most about your role? What motivates you?
Brown: I enjoy the opportunity to solve a puzzle and find missing information. I am motivated by our patients and being part of the GW MFA team.