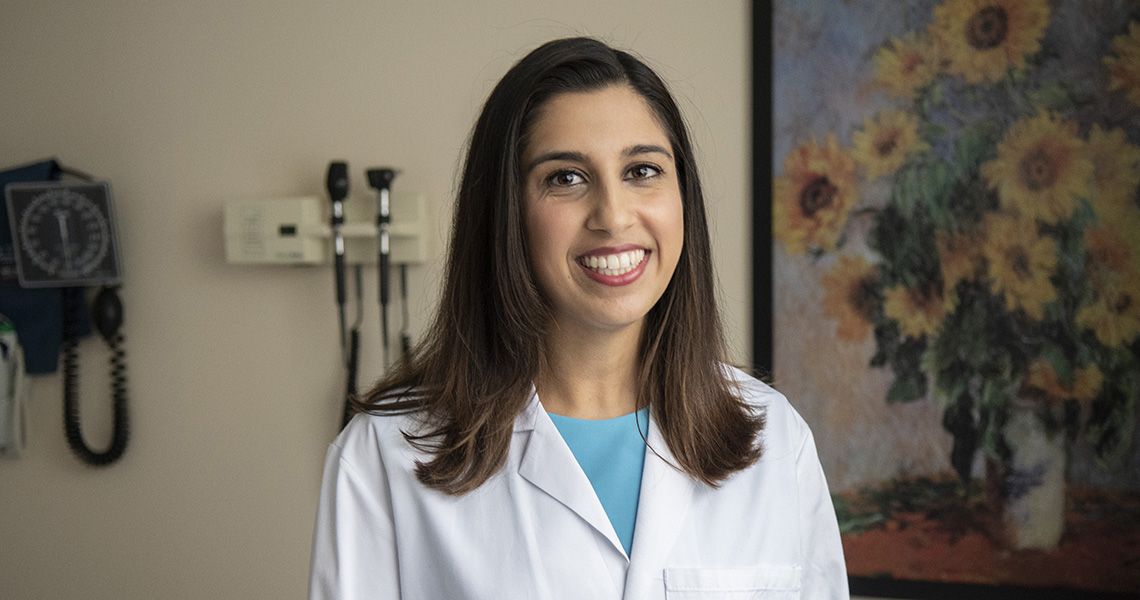 More than 10% percent of the U.S. population has some form of eczema, according to the National Eczema Association, which means that some 30 million people grapple with itchiness, redness, dry skin, and more on a daily basis. With October as National Eczema Awareness Month, now is a good time to give your skin a check-up and learn more about this common condition. Here, Kirti Johal, MD, assistant professor of medicine at the George Washington University (GW) School of Medicine and Health Sciences and a board-certified internal medicine and allergy and immunology specialist at the GW Medical Faculty Associates (MFA), discusses symptoms, triggers, and treatments of eczema and how it can affect more than just your skin.
Q. What is eczema, and who does it affect?
Johal: Eczema is a chronic, inflammatory skin disease that affects both children and adults.
Q. What are the symptoms?
Johal: The presentation of eczema may be highly variable; however, patients generally experience dry skin and severe itchiness. Thickening and/or fissuring of the skin may occur, as well as crusting and scaling.
Q. How can patients manage their symptoms, especially itching?
Johal: Our primary goal is to manage symptoms and prevent future exacerbations. Patient education regarding the importance of skin hydration is key; thick creams or ointments should be applied at least twice daily. Topical corticosteroids are often added next, and oral immunosuppressant medications or dupilumab (a biologic) may be utilized for more severe cases.
Q. What are common triggers?
Johal: Common triggers include dry skin, exposure to environmental aeroallergens, stress, irritants, and infection.
Q. What other health issues are people with eczema more vulnerable to?
Johal: The atopic march, or the natural progression of allergic diseases, describes patients who may be predisposed to eczema, food allergies, asthma, and environmental allergies; this is commonly seen in children and earlier in adulthood. Patients with eczema may also have ocular conditions, such as atopic keratoconjunctivitis. Eczema may impact quality of life and can subsequently have associations with depression, anxiety, and learning disabilities.
Q. How does GW care for patients with eczema?
Johal: The Division of Allergy and Immunology in the GW MFA Department of Medicine, as well as the GW MFA Department of Dermatology, treat patients with eczema. We have multiple options, ranging from topical treatments to injectable medications (i.e., dupilumab) available. We also have the ability to assess for environmental triggers and contact allergens that may be contributing to the patient's presentation.
---
To make an appointment with an allergist or dermatologist, visit the GW MFA Allergy, Asthma, and Sinus Center or call 202-741-2770, or visit the GW MFA Department of Dermatology or call  202-741-2600.