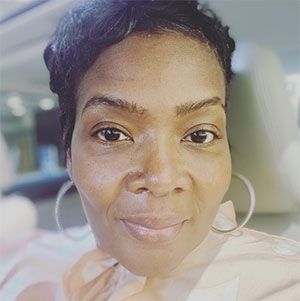 At the heart of her work, Tracie Bass cares about others: her community, patients, and the secondary school students looking for a pipeline to health professions careers. Bass, executive coordinator for Jehan El-Bayoumi, MD, founding director of the Rodham Institute and a provider with the George Washington University Medical Faculty Associates (GW MFA), is an award-winning professional whose efforts show little sign of waning. Over the last year, she's ushered students into hands-on health sciences training through Doctors of Tomorrow and HELP, the Health Education and Leadership Program, and coordinated the distribution of hundreds of thousands of donated masks. Here, she talks about her career path, what she's proud of, and what inspires her.
Q. What is your role at GW, and what does it entail?
Bass: I am currently the executive coordinator for Dr. El-Bayoumi and the director of the Doctors of Tomorrow Program for the Rodham Institute. I assist Dr. El-Bayoumi with her patient practice and act as liaison between the White House Medical Unit and the GW MFA. As director of Doctors of Tomorrow, I work with medical students and DCPS [District of Columbia Public Schools] students who are enrolled in Health Sciences Academies through mentorship and college preparation.
Q. How did you get started at the GW MFA?
Bass: I started at the GW MFA exactly one week before 9/11. I was a patient services specialist on the 4th floor for internal medicine for a year, then I became the administrative assistant for endocrinology and podiatry, as well as the endocrinology fellowship coordinator. I stayed in that role for about three years and then I moved to being the residency coordinator for internal medicine for just over 10 years, followed by my current role.
Q. What accomplishments are you particularly proud of?
Bass: I am particularly proud of being the 2013 Program Administrator of the Year for ACGME [Accreditation Council for Graduate Medical Education]. It is a national award, and I was the first person at GW to receive it. I am also very proud of all the wonderful residents who trained in our programs and have gone on to wonderful work in communities all around the world. I am also proud of the service award that both Dr. El-Bayoumi and I received from The White House Medical Unit for the work that we have done alongside them. Most importantly, I am proud of our community work at the Rodham Institute.
Q. What lessons have you learned while working here?
Bass: I have learned to pivot in an ever-changing work environment. I have learned the importance of building relationships with your colleagues and how these relationships make working in such a large practice a lot easier.
Q: What excites you the most about your job?
Bass: I am excited by my colleagues and my patients. I enjoy seeing my colleagues grow into new roles and develop skills that they did not have when they started. I love my patients and have grown to know
their families over the years. Mainly, I love working with Dr. El-Bayoumi; she pushes me to represent the Rodham Institute, the GW MFA, and GW in the community through our work.